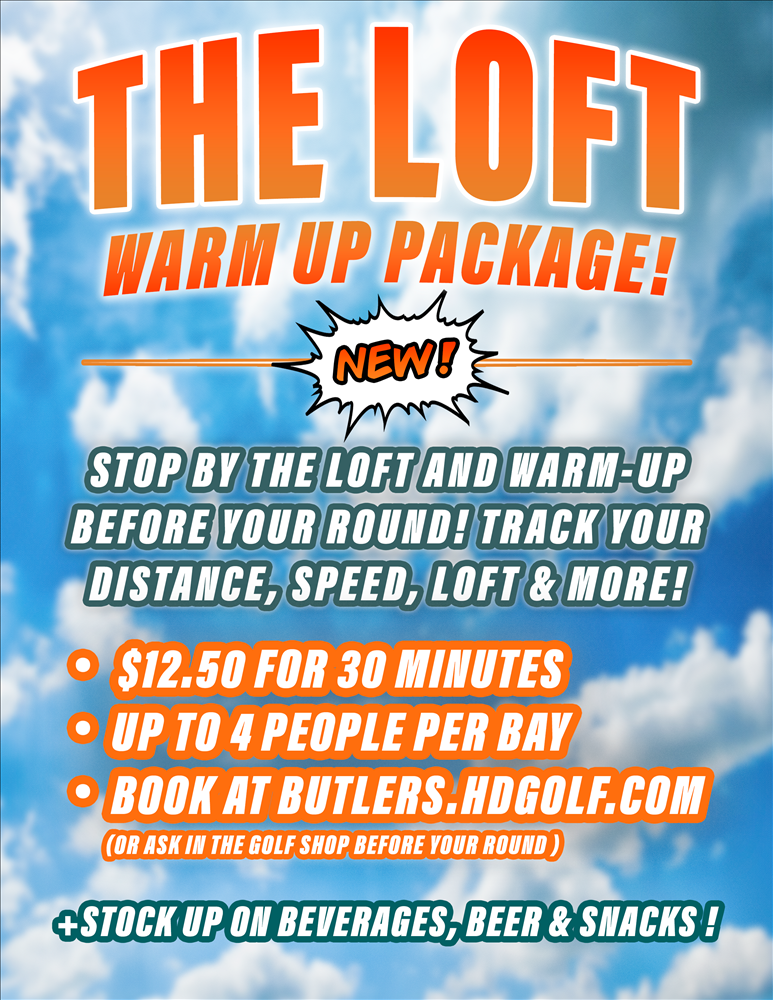 NEW! The Butler's Warm-Up Package!
INTRODUCING THE BRAND NEW: "Warm-Up Package"
Stop by "The Loft" and warm-up before your round on a virtual practice range! Track your distance, speed, loft & more! Then head right out to your golf cart, confident and ready to take on Woodside or Lakeside!
• $12.50 FOR A 30 MINUTE SESSION
• UP TO 4 PEOPLE PER BAY
• CLICK OR TAP "BOOK NOW" FOR BOOKINGS!
(or ask in the golf shop before your round if any bays are available)
+Stock up on Beverages, Beer & Snacks before your round!
Questions? Contact us at (412) 751-9121
VIRTUAL GOLF!
Stop by "The Loft" and play over 30
of the world's most famous courses!
• $25 PER HOUR (SPRING/SUMMER RATE)
• CLICK OR TAP "BOOK NOW" FOR BOOKINGS!
• UP TO 4 PEOPLE PER BAY
+Full Bar Service!

*Please note when booking, that the tee-sheet is in 30 minute intervals! Make sure you have selected your proper/desired time before confirming your reservation!*
(For reference, a foursome playing 18 Holes will take around 3 Hours)
Questions? Contact us at (412) 751-9121