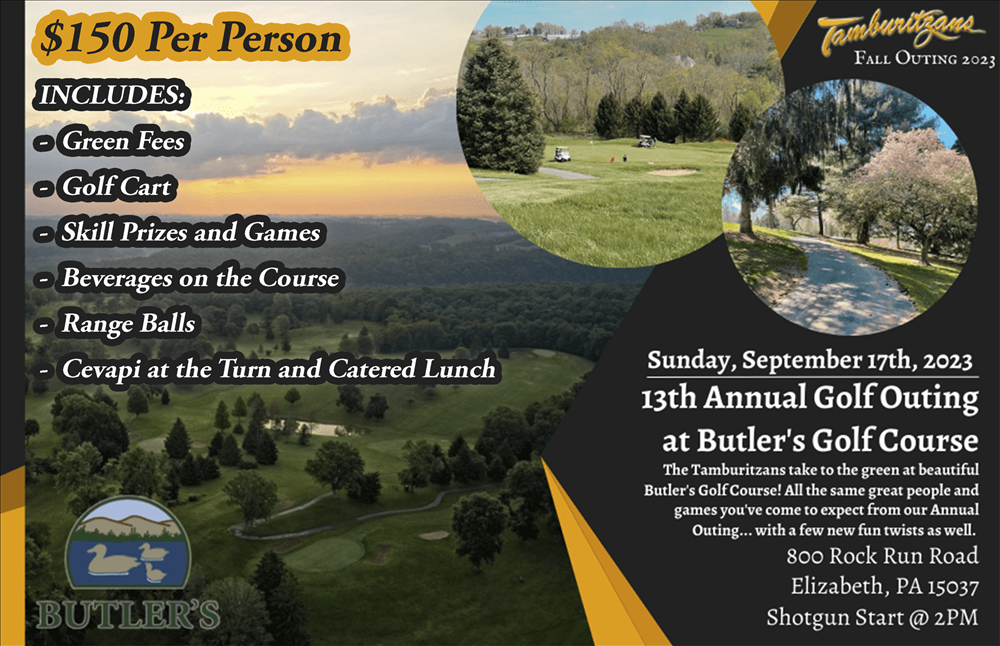 TAMBURITZANS 13TH ANNUAL GOLF OUTING
SUNDAY SEPTEMBER 17, 2023 | Click HERE for more information, sponsors + registration!
Mark your calander for a fun weekend while helping the Tamburitzans reach their goal of raising $40,000 for Scholarships, Performances and Tradition. As we begin our 87th year of live performances throughout the country, we are more excited than ever to bring a brand new show to audiences across the country. In order to keep that Tamburitzans bus rolling along, we invite you to join us in raising funds for our 2023-2024 season. When you golf with us, you're just not working on your putting game-you're also providing much needed funds in support of the Arts and the Tamburitzans Ensemble. The funds we raise go a long way towards providing the scholarships we distribute annually to our non-Duquesne University affiliated performers attending various colleges and universities in Pittsburgh, allowing them to continue dancing, singing and playing spectacular music while earning funds toward their education. The Tamburitzans are a 501-C3 not-for-profit organization and every dollar you contribute is meaningful and appreciated.